25-26-27-28 March
Kayaking: Easter on The Hawkesbury
Open water kayaking - A great experience and fun day on the water.
Experience four days on the beautiful Hawkesbury River. Our journey begins on the Central Coast before heading up into the Hawkesbury to our secluded location where we will set up camp for the Easter break. During our stay on the Hawkesbury River we will get the chance to paddle to an array of beautiful destinations.3
Sunday 03 April (ICE)
Sternbecks Gully
Along the way you will find many interesting things which will include fine examples of stonework, buttresses and culverts. Built between 1826 and 1836, the Wiseman Ferry section of the Old Great North Road saw in excess of 700 convicts working on the road at any one time. Some of the amazing walls are over 10 meters high and still stand perfectly aligned after nearly two centuries.3
Saturday 09 April
Kayaking: Central Coast
Calm flat water kayaking - A great experience and fun day on the water.
Our day starts out by paddling through the valley. Here you will find various foreshore vegetation including areas steeped in forests of mangrove. The valley is surrounded by Brisbane Water National Park. The Great North Walk meanders through a large section of this valley and alongside one of the valley's main tributaries.1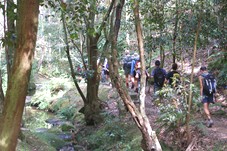 Sunday 17 April
A Sacred Place
This walk is for those of you that really want to get away from suburbia. Although situated in the metropolitan area, there is every chance that you won't see another sole for the entire day. Our follows wallaby tracks into a wilderness like area along a mountain top to what we believe was once a sacred meeting place for the Aboriginal people of this area. Before white colonisation, many of the local Aboriginal Tribe lived in this section of the park4.
Saturday 23 April
Kayaking: Southern Bays of Inner Sydney Harbour
Open water kayaking - A great experience and fun day on the water.
Our day takes us into Inner Sydney Harbour visiting the many bays including Cockle Bay, an area that berths the many commercial charter boats including the James Craig and Sydney's historical South Steyne Ferry which is now being used as a floating restaurant.1
Saturday 07 May
Kayaking: Berowra Valley
Calm flat water kayaking - A great experience and fun day on the water.
This paddle takes us through the heart of Berowra Valley. See quaint cottages dotted around the foreshore before we move further into a bush lined corridor surrounded by mountains. Our paddle takes us to secluded babs before heading off to an isolated little sandy beach where we will pull in for our morning tea break.1
Saturday 08 May
The Secluded Waterfall
This morning's walk takes you through a natural bushland area that backs onto Narrabeen Lakes Middle Creek and Deep Creek. Deep creek passes through a valley that stretches over seven kilometers from Belrose down into the lake. From the lookout, you will find wonderful views of the countryside with panoramas stretching out along the coast while lower down we will walk through jungle like environment to visit a seclude waterfall.4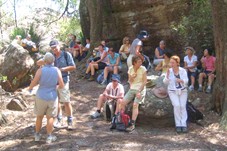 Saturday 21 May
Ginger Meggs to The Pond
Although this event traverses the Blue Gum Forest, it is also part of our new series of walks which will take us from the plateau area down to a pond situated on a bend in Berowra Valley. This pond usually has its own beach which is formed after heavy rain. It is however, only a 50 meter descent but will surely give you a superb workout as you return up through the steep terrain. Includes an after-event morning tea in the park.3
Sunday 22 May
The Grose River
Not a well walked track due to the distance and openness of the trail that leads you out onto the ridge above the river. The trail section though, gives way for some easy walking and relaxing chatter as we make our way along the ridgeline then sidles down the mountain side to visit an enormous rock pool in the heart of the Grose Valley. Once at the base there will be time to explore this unique wilderness area along with giving us enough time to relax or to cool off with a relaxing swim.4
Saturday 04 June
Kayaking: Lake Macquarie's Tributaries
Calm flat water kayaking - A great experience and fun day on the water.
Explore some of Lake Macquarie's finest tributaries. These creek systems have many kilometers of navigable water and are fed by rainwater from the Olney and Watagan Mountains. The creeks, while seldomly visited by boat owners allows for the paddler to get up close and personal with an array of birdlife, and if you are lucky you may come across wallabies grazing by the water's edge.1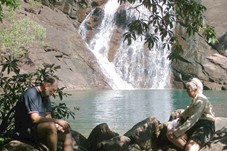 Saturday 11 June
Terrys Creek
Join us this Saturday for a walk to where the Old Great North Road once stood. The Great North Road was our first link between Sydney and the Hunter. This walk is relatively flat for most of its way as it follows Terrys Creek from South Turramurra through to Eastwood. Includes an after-event morning tea in the park.3
Sunday 19 June
The Reservoir to Ourimbah Rainforest
From the Somersby Sand Mines, our walk soon gets into the bush sidling the rural farmland of the plateau. This first section of the track is usually alive with droves of Gymea Lillies then later enters the Ourimbah Rainforest with its intertwining vines and giant trees that over shadow this beautiful area of our walk.3
Saturday 25 June
A Cultural Experience: 5 Lands Walk
See some clever, beautiful and thought-provoking art works made from a wonderful variety of materials and objects that have been found in our environment? On this walk we will walk the Ephemera exhibition of sculptures on the beach at Avoca Beach and Copacabana. You'll be amazed at what some of Australia's leading artists can create from stuff just lying around in our environment. Ephemera is about demonstrating a sense of place through a sensibility to the physical, spiritual and cultural environments of the 5 lands. Now in its 11th year, the Ephemera exhibition has attracted some of Australia's most highly-regarded sculptors including an exhibition of Indigenous art by Aboriginal artists from the Central Coast.2
03-13 July
Jatbula 2016: A Journey Through Jawoyn Land
A top end experience trekking through the Northern Territory's Jawoyn Land, is one of the most extraordinary wilderness areas in Australia. The Jatbula Trail in the Nitmiluk National Park features magnificent waterfalls that tumble from high quartzite cliffs, shady monsoon forests that line the creeks and stunning Jawoyn Aboriginal rock art that adorns the caves and overhangs. Bookings have now closed for this event.
Sunday 17 July
Figure Eight Pools
Journey to a fascinating rock pool and a beautiful ocean beach. The walk treks across the national park from the central areas to the coast following beautiful forested tracks before making its descent down a grassy hillside to the coast. From here you will have splendid views of the coastal escarpment, walk through a magnificent palm jungle and a large littoral rain forest area as you ascend the steep slopes above the ocean. Cabbage tree palms, vines, birds nest ferns and elkhorns are some of the beautiful rainforest plants found here in this unusual jungle community.4
Future Events
Walk4Charity
A DAY IN THE BUSH FOR CHARITY
At last there is a fundraiser where you can engage in a fun day out in the bush with a guarantee that 100% of the funds raised go to charity. There are very few organisations that can boast about their fundraising achievements like we can.
We are able to manage this because we are a volunteer organisation that genuinely
cares about people in need. When you support our fundraising events you can be assured every dollar raised
goes to our chosen charity.
Join us for this unique fundraising day and meet others with like-minded interests. While on our bushwalk journey you'll get the chance to enjoy our Wilderness Cafe while relaxing and appreciating an Aussie Sausage Sizzle on completion of the walk.3
Future Events
John's Pilgrimage & Fundraiser with After-Walk Social
Come along and join our journey as we remember those who have fallen ill or who have passed on due to illness that could not be cured. This walk is a Pilgrimage to John's Tree of Remembrance where members can take time to reflect on his life and the loved ones we have lost. It is also a fundraiser for the ongoing fight against cancer.3

This program summary has been supplied for members as a quick reference guide.
Full program details can be accessed by going to the Members Only page.
The number at the end of the activity description denotes the activity grade. ie: difficulty of activity. A lesser number denotes a less difficult activity.
PLEASE NOTE:
Special Note: For your safety and the safety of other members, this group has a "No Booking, No Go" and a "No Membership, No Go" policy.
Absolutely No Exceptions