Our Sponsors and Fundraising Partners
2015/2016

Ku-ring-gai Bushwalkers gratefully acknowledges the generous assistance that the following sponsors have provided. Without this ongoing support we would not be able to significantly contribute to CareFlight in the way that we do. Not only do our sponsors give generously towards our fundraising efforts they also deliver the highest standards in quality goods and services. We would ask you to consider giving them your full support whenever
you require any of the products that they offer.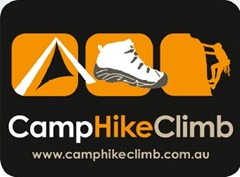 CAMP HIKE CLIMB (Hornsby) - At Camp Hike Climb our mission is to reignite and continue to fuel people's connection and love of the outside world. To do this, the team at Camp Hike & Climb source and supply the best quality products and brands from around the world at competitive prices and offer the best expert advice with an enthusiasm that is infectious. Click here for more.

Tech 2U - TECH 2U is a technical services company providing Dial-Up and Broadband Internet Access Australia-Wide, Domain, Web and Email Hosting, Server Co-Location and a Sydney Based Computer Sales and Repair Facility for Individuals and Businesses. Tel: 1300 363 641. Click here to see more.
Platypus - At Platypus, we understand that hydration packs aren't just about carrying water. They're about fit, function and style. Click here to see more.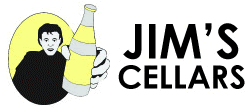 Jim's Cellars - Gives you some of the best choices in quality wines, spirits and beers. For unbeatable deals look no further than Jim's Cellars - 65 Edgeworth David Avenue, Waitara NSW 2077. Tel: 9489 7177. Click here to see more.
Fiegerts Ice Works - The Northshore's Ice Specialist; Fiegerts Party Ice 3.5kg, 5kg, 10kg bags or 6kg block. Dry ice pellets or block. Ice sculptures numerous figurines. Tel: 9477 2011. Click here to see more.

Mt Kuring-gai Village Butchery - "For meat you can eat", call Graham Tel: 9457 9879 - Family butcher, bulk order specialists and barbecue spit hire.

Outdoor Australia - Travel through awe inspiring pictorials, find out about popular bushwalking getaways and be up to date with equipment and product through the extensive reviews. Click here for more.
Charities that our group supports include:

CareFlight - An aero-medical charity that uses helicopters, jets, aeroplanes and road ambulances to bring the emergency department of a hospital to the patient. They provide critical care specialists who can perform procedures on the severely injured who need to be treated at the accident scene as well as look after the very ill who need to be moved between hospitals.

Over the last 26 years, CareFlight has helped over 25 000 people. Today CareFlight has 10 doctors on rostered duty every day of the year. Click to see more.
.

Cancer Council NSW Cancer Council NSW is a community funded, community focused cancer charity dedicated to the defeat of cancer. Click here to see more.
.

Child Flight - Provides emergency intensive care transportation for seriously ill babies and children. Click here to see more.

St John Ambulance - St John is a charity in the Australian community working for the service of humanity. Click here to see more.
About our charities



What everyone should know about CareFlight …
CareFlight was formed in 1986 to provide a rapid response medical retrieval service in Australia. CareFlight is a key school for trauma specialists and senior registrars in critical care and patient transport. We hold teaching accreditation with the Critical Care Colleges. CareFlight launched CareFlight MediSim, a mobile medical simulation program designed to train emergency service volunteers in rural and remote area in trauma management, in 2011 and has since trained over 500 participants at no cost to them.
CareFlight has treated more than 25,000 patients, many of whom owe their lives to this service. CareFlight's service is provided free of charge to all patients. It is through your continued generosity that enables CareFlight to deliver this important service to the community.
On behalf of CareFlight, Ku-ring-gai Bushwalkers would like to thank everyone who has supported and contributed in our fund raising efforts. Your generosity has assisted us in raising several thousand dollars for CareFlight, our emergency aero-medical retrieval service.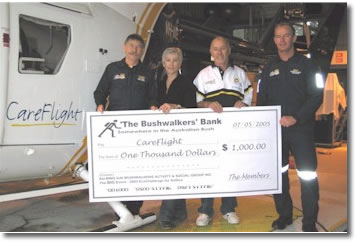 Some of our members presenting CareFlight with the funds
raised at our BIG event, 'The 2005 CareFlight EcoChallenge for Softies'
"CareFlight, One Day Your Life May Depend On It"



"Water Matters Campaign 2003/2004"

'Water Matters' In 2003/2004 we joined the campaign to ensure that all people, especially the world's poor, have access to safe water and adequate sanitation. Currently over 1.1 billion people lack access to safe drinking water and 2.4 billion to adequate sanitation.

As our crops fail and our lawns turn brown, we in Australia are very aware of the importance of water. The situation is much worse around the world where some countries do not have access to a safe and secure water supply. Without water, lives are lost, disease is endemic and droughts are even more devastating. Time which could be spent earning a living or going to school is wasted in long searches for even a single jerrycan of water.

Ku-ring-gai Bushwalkers and its members are proud to have given their support and assistance to the 'Water Matters' campaign and to ask you to do all you can to achieve safe water for all the world's poor.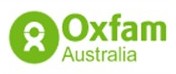 Oxfam Australia Oxfam Australia is part of a global movement of dedicated people working hard to fight poverty and injustice.
In 2010, Ku-ring-gai Bushwalkers was proud to be able to assist with their fundraising efforts. Click here to see more.
.